This is an open-source project initiated by me in 2012 for edX, an open course platform organized by some famous universities including MIT, Harvard, and Berkeley. The tool provides an easy way for edX students to download the lecture video clips in a batch, which enables them to put the videos into portable devices and to study anywhere.
这是一个由猴哥与2012年发起的开源项目,该项目与一个由一些著名学校发起的开放课程平台edX有关。这个工具给edX提供了批量下载课程视频的便捷手段,学生能够将视频下载到移动设备上以便在任何地方学习。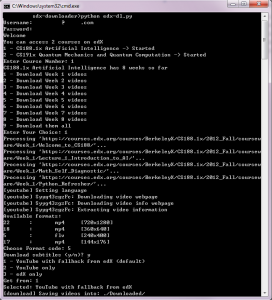 The tool is the Monkey's first GitHub project, which is under collaborations from @emadshaaban92, @rbrito, @iemejia, and so on. The project was immediately responded by other edX classmates after the Monkey's proposal. It becomes a widely recognized project, which helps countless students study on edX.
这个工具是猴哥的第一个GitHub项目,项目一经提出便获得了@emadshaaban92、@rbrito、@iemejia等人的协助。它已经成为了一个广泛认可的项目,帮助了不计其数的edX学子。
For more information, please checkout the project homepage. 欲了解更多信息,请前往项目主页。
* edX is the trademark of edX. edX是edX的注册商标。