02/22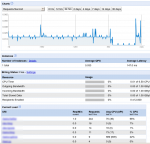 经过几天的编程、调试,我的微博、博客同步系统终于基本完成了。
这个架设在Google App Engine上的系统能够将我的推特(Twitter)上的微博同步到人人网、百度空间、腾讯QQ空间及QQ签名上。过去虽然通过第三方网站,我能够将微博同步到人人上,但是其非常不稳定,再加上前些日子又有一小撮人在大街上遛弯,导致第三方网站的同步渠道开始维护;现在使用自己的系统,再也不用担心别人出门运动对我的微博产生的影响了。
这个系统还能够将猴子的小窝的文章同步到人人网、百度空间、腾讯QQ空间以及脸谱网(Facebook)上。
这一套系统的难点主要是在于如何避过百度、腾讯这两个不喜欢开放平台的网站的图灵测试。绕过百度系统的方法比较成功,绕腾讯的有些烦琐,有效性尚需一些时日来观察。
对比代码,发现脸谱网的开放平台做的最好,其安全性最好,而且实现的代码长度也很短;相比之下,一直号称开放的人人网似乎并不友好,至少我看了很长时间技术文档,也不明白它的那个API除了PHP下直接调用官方库以外,怎么用;最最恶心的是腾讯的系统,光一个验证就来来回回地折腾了好几次,估计腾讯不愁服务器负载问题。
等到下面技术成熟了,我可以考虑小范围内测。
The Monkey has coded his Monkey Sync System, which can update his micro-blog and blog in several SNS websites automatically.
This application in Google App Engine can skip the Turing Test of Baidu and Tencent, the websites who are not open-socially.
Comparing with the most open API, Facebook's Graph API, the Renren, a Chinese Facebook, which is always claimed open social system, is not friendly for developers, at least non-PHP ones.