A BIT student in his sophomore year asked my typical day when I was in my freshmen and sophomore years in Beijing Institute of Technology. I found a picture showing my junior year's daily planner, and I hope it will work as a reference for the current students in the same department get ideas to optimize their time usage.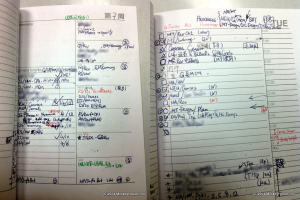 My department in BIT required a heavy workload on the second year and the third year students. My free time was actually split into small fractions by endless courses. The main idea I had for using time was to ensure the in-class participation with the highest priority, and then I would try my best to finish my reviews of courses in the day I learnt them. The assignments were allocated to different days over the week so that I wouldn't be crazy of the unfinished homework, and I also knew that I could finish them on time with high quality, since I did not mix them or cram for them.
I designed this daily planner on my first junior semester, since I could not find somewhere to buy one in China. I started to use it for Spring 2013. I found it really convenient especially after I bought a planner in the US during my exchange year. My planner includes areas for recording the tasks in this week, allocating tasks over the days, listing all the things for a day, and planing a day by hours.
一个北理的学弟问我大一、大二的典型一天是什么样的,我后来找到了一张照片,里面有我大三的时候的日程表,希望这个图片能够帮助他们找到利用自己时间的方法。
我在的那个学院在第二、第三年的时候学业非常重,我的空闲时间被无尽的课程分割成了很多小的碎片。我主要是首先保证课堂参与,然后尽力当日将课上内容复习完;至于作业,我会把他们安排到一周内的不同天来做,这样我不会为没完成作业而疯狂,也能够保证作业质量。
我大三第一学期的时候因为买不到日程表,所以自己的设计了一个日程表,然后在2013年秋季学期使用。在来交换了以后我尤其发现我当时设计的日程表非常方便,因为它可以记录一周内的任务、分配任务、列出一天要做的事情、按小时计划一天。